"MAKE YOUR LIFE
CLEAN"
We make hygienic
and healthy sur
roundings.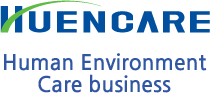 We provide total care solution through incessant innovation and creation to make hygienic and healthy surroundings.
Total Home Care Solution
Future Environmental Bumsiness for Harmony of Human and Nature

Main Item
Sterilizing Deodorizers
(Name: Flugun)

By spraying harmless ultrafine chemicals, it gets rid of odor, germs, harmful insects and formaldehyde easily and safely.
Disinfection Service

We give total home care service of insect control, disinfection and odor treatment.