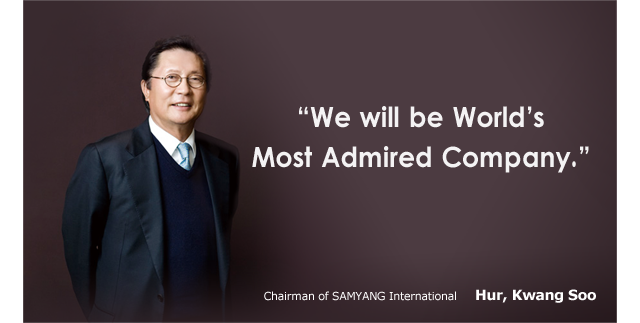 SAMYANG International has enjoyed 40years of steady, sustained growth since 1986 because it welcomes new challenges.

In pioneer days, we laid the groundwork for growth by introducing US's popular goods to Korean market. To diversify our business into energy and environmental industry, we established overseas offices in Singapore and India. We generated one trillion won in sales in 2012. We truly become one of the top leaders of Korean companies.

We enjoy endless challenges. We, the leading company in distribution industry, will innovate again and again to be a future-creating global company. We'll spare no efforts and investment and provide quality goods and service to reward our customers. We will hold up our corporate social responsibilities to be one of the world's most admired companies.

Thank you.